Gary Speed, 8th November 1969 – 27th November 2011.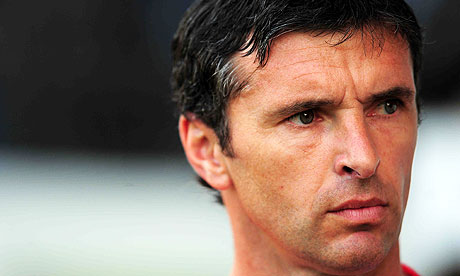 The world of football is still reeling in shock from the death of Wales manager Gary Speed. In fact the world further afield from football is still very much in disbelief that Gary has passed. Many tributes and obituaries have already been flying through the media, both from writers more experienced than yours truly and from people who actually knew Gary – unlike myself.
Like any football fan in this country though, I too have been very much affected by Gary Speed's death. Feelings of astonishment, surprise and most certainly sadness have gripped followers of the beautiful game. Many will want answers as to how and why is the tragedy has occurred. This however is not the time for these questions. Now is a time to reflect on what a great man and fantastic professional that Gary was and to commiserate how much of a loss to football his death is.
Gary Speed came through the youth ranks at Leeds United and signed a professional contract at the beginning of the 88/89 season. He went on to become a prominent player for Leeds and won the last ever 'Old Division One' Championship starring in midfield alongside the likes of Gary McAllister and Gordon Strachan.
After four seasons at Leeds he moved onto Everton where he became captain after his first season. After two years on Merseyside Gary then moved further north to Newcastle United. Joining aged 28, Speed was arguably at his peak while at the Magpies and made two FA Cup finals and featured in the Champions League for them. He formed a close bond with legendary manager Sir Bobby Robson who was sad to see him go in 2004.
Speed moved onto Bolton where he played for three and half years and he also became the first man to reach 500 Premier League appearances during his time. He is still third in the all-time Premier League appearance list, sitting behind fellow countryman Ryan Giggs and David James. Gary also cut his coaching teeth whilst at the Reebok, something he built on at his next club Sheffield United.
Speed grabbed a few goals in his time with the Blades but early in the 2008/09 season he suffered an injury which ne never really recovered from. After eventually retiring over a year later Gary Speed then became a coach at Sheffield United, working under manager Kevin Blackwell. Following Blackwell's sacking early last season Speed emerged as his natural successor and signed a three year contract giving him his first management role.
His first management spell wasn't exactly groundbreaking but it gave Speed vital experience when he decided to part company with the Blades just four months later to become manager of his national side, Wales.
Speed made his playing debut in 1990 for Wales and went onto make 85 appearances for his homeland, a record for an outfield player. He scored seven goals for Wales and captain his country in many of his appearances, inspiring younger colleagues such as Ryan Giggs, Robbie Savage and Craig Bellamy.
Not long after becoming manager of Wales they slumped to an all-time low of 117th in the Fifa rankings. Wales followed this with wins against Montenegro, Switzerland, Bulgaria and a 4-1 friendly win against Norway this Month. On the back of these wins Wales have now raced back into the top 50 of Fifa's world rankings. With extremely talented younger players such as Gareth Bale and Aaron Ramsey in their team there was huge optimism for the Welsh ahead of qualifying for the next World Cup. This optimism was of course largely down to having Gary Speed at the helm and this, sadly, will no longer be the case.
Gary Speed was one of the few lasting members of a generation that has died out in football now. One of the phrases we will constantly hear this week is 'model professional' and so we should. This is exactly what Gary Speed was. He played for the love of football. He didn't play for excessive money or for an inflated social status.
Speed wasn't a dirty player, he wasn't a devious player. He didn't need to use tricks to beat his opponents, he used his ability. He was never on the front pages of a newspaper, he stuck to the back. He kept his private life private and his professional life professional.
Aside from the football pitch, Gary was usually a regular in the TV studio as well. He was often brought in for his punditry views, as recently as Saturday's 'Football Focus'. In these appearances he showed himself to be insightful, level-headed and very witty. Something that has been repeated aplenty in the immense amounts of tributes paid to him since yesterday's tragedy.
Glowing messages for Speed have come from all quarters since his death, managers, celebrities, politicians and players who are only just making their way in the game. I recall several years ago when Craig Bellamy was speaking about the influence Gary Speed had on his career when he was a youngster during his time at Newcastle. It would appear this relationship continued into Speed's managerial role with Wales and this was personified yesterday when it was decided Bellamy wouldnt't appear against Manchester City upon hearing of Speed's death.
Even the much maligned Fifa have shown their respects by lowering both their own flag and Wales' at their headquarters in Zurich. Whilst a respectful gesture, it pales in comparison to the Swansea fans breaking into applause whilst Shay Given wept for the loss of his former teammate.
The words that have been spoken about Speed since his death have shown what a great human being he was. One word however has been mentioned and it will no doubt become much more prominent in the weeks to come – "why"? He had a great career, a lovely family and a very promising future in a job that he adored. The intensity of grief towards this event has obviously been multiplied by the fact that it was such a shock. This would have been devastating whoever it had happened to but no one would ever have thought Gary Speed would have taken his own life. Especially as we think back to him laughing and joking on Football Focus as he usually did, just hours before.
As I have said though, now is not the right time to pick apart the bones of why this man decided to end his own life. If that is indeed what happened, as we shall find out from tomorrow's inquest.
Now is the time to cherish the great man who graced the best sport in the world. A man who was revered and respected by so many. One of the old guard. Gary Speed, the ultimate professional. A man who showed all up and coming players what being a footballer was all about, playing the game. He will be sorely missed but never forgotten.